We have a number of long-term research projects on the go at the marsh; mostly banding birds as a tool to monitor bird migration. Depending on the season we target certain species as well as operate constant effort migration monitoring spring and fall, allowing the marsh to be a candidate to join the Canadian migration monitoring Network.
Bird banding provides researchers with a snapshot of migrating and resident bird populations and the Hilliardton Marsh is 1 of 13 bird banding stations in Ontario. When a bird is banded a lightweight aluminum "ring" is placed around one leg of a bird, much like a bracelet. Each band has a 9 digit number that is unique to that bird. Our hope is that our birds will be recaptured during their migration or perhaps when they return to the marsh the following year on their return migration. When a bird is recaptured its band number allows researchers to confirm migration patterns. This information allows us to conserve and protect vital habitats that are important stopover grounds during migration as well as important breeding or wintering locations.
In addition to placing a band on one leg we also record important data about the bird; information like wing chord, mass, age & sex, overall body condition. This information is sent to the Canadian Wildlife Service where it is shared with the US fish and Wildlife service on Maryland where access to the data allows researchers to further look at population trends and advise future conservation considerations.
Owl Banding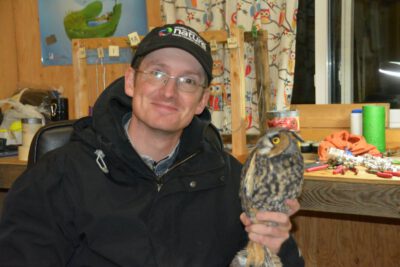 Each year from mid-September until late October three species of owls; Northern Saw Whet Owls, Long Eared Owls, and Boreal owls are banded. Owl banding is very popular and we do our best to provide opportunities for the public to see these amazing birds of the night up close and to learn more about our research.
If you're interested in booking a private group (max 30 people) to see owl banding please check out our Events Page for available dates. For other inquiries about owl banding send us an email through our contact page.
To see our owl banding totals from the year 2000 to 2019 click the link below.
Spring and Fall Songbird Migration Monitoring
Since 1996 we have operated as a migration monitoring station; tracking numbers and dates for arrivals/departures of species migrating through the Boreal Forest. We have a very unique observatory due to convergence of several distinct habitats at the marsh. This allows for a great deal of bird diversity and during peak times in spring and fall it is not unusual to see 40-50 different species of birds and days of over 100 birds being banded are common.
Spring banding occurs from the beginning of May until mid-June and fall banding Starts August 1st and runs until the end of October.
Snow Bunting Research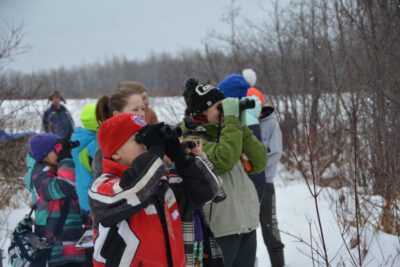 Snow bunting populations have been in rapid decline over the past 40 years. Researchers, banders, and citizen scientists are working together to try and understand the reasons behind this rapid decline by learning more about the behaviour of snow buntings. We have been working in collaboration with the Canadian Snow Bunting Network for the past 10 years. Joanne Goddard, one of our Director's at HMREC, has introduced the project to her students at Kerns Public School. They are known as the "School of Flock" and their efforts are recognized by the founder of the project, Oliver Love from the University of Windsor.
If you would like to see how many snow buntings the School of Flock, or The Marsh has banded please click the link below.
Tree Swallow Boxes
Researchers believe Tree Swallow population is limited due to the number of available nesting cavities. According to data gathered by the two breeding bird atlases it was noted that the tree swallow population had declined by 40 % in our region. Since Tree Swallows easily adapt to nesting in artificial cavities, the Marsh has made the Tree Swallow Nest box project a priority.
To date the Marsh has installed over 300 nest boxes at the marsh and surrounding area. Special thanks go out to the many volunteers and school children who help monitor and clean these nest boxes every year.
Interested in building your own Tree Swallow box? Download the plans or check out our tree swallow and bluebird banding data below.
Duck Banding
In collaboration with the Ministry of Natural Resources and Forestry (MNRF) several duck species and other waterfowl are banded at The Marsh every August. For the past several years the MNRF has brought an airboat to the marsh. Duck banding with the airboat occurs at night and gives us the advantage of catching species we would normally not be able to catch using our usual methods (baiting with corn and barley).
If you would like to see more specific information regarding the species and numbers of waterfowl that we have banded at the marsh with the help of the MNRF please click the link below.
Hummingbird Banding
Since 2012, HMREC's hummingbird banders Bruce Murphy, Jo Goddard, and more recently Chris Suhka, have spent many spring and late-summer hours visiting local gardens, outdoor festivals, and of course our own Hilliardton Marsh Garden, to band everyone's favorite bird- The Ruby Throated Hummingbird.
Hummingbird banding has become one of HMREC's most successful banding programs. With many returning birds year after year, we are learning lots about the site fidelity of these amazing birds. In fact, numerous hummingbirds that fledged the nest and were banded at the marsh have returned the following year to be recaptured again, hopefully adding to our local breeding populations.
Visitors to the marsh often have the chance to see hummingbirds being banded. Some lucky guests even have the opportunity to hear a hummingbird's heartbeat before releasing them back into our pollinator friendly gardens.
Our most popular events is the Hummingbird Garden Party held every year on the third weekend of August. To learn more about this event visit our Events Page.
Motus Wildlife Tracking Systems
The Motus Wildlife Tracking System is the future of bird banding as it is an international network with high grade results. The Motus system allows researchers to track migration routes very precisely using radio telemetry. A small tracking device is fastened onto the bird (or in other cases mammals or insects) and it broadcasts signals that are received by Motus towers. When the information from Motus towers are combined we can get a very detailed route of a bird's migration path.
We were fortunate to successfully fund raise enough money to install a Motus tower at the marsh and become a node in a western hemisphere tracking network. The next step for the marsh is raising funds to purchase motus tags to band specific species at the marsh to provide the network with more data which will result in better conservation efforts for vulnerable bird species. Putting motus tags on owls would provide a great deal of information on where owls move from the marsh as the move across North America.